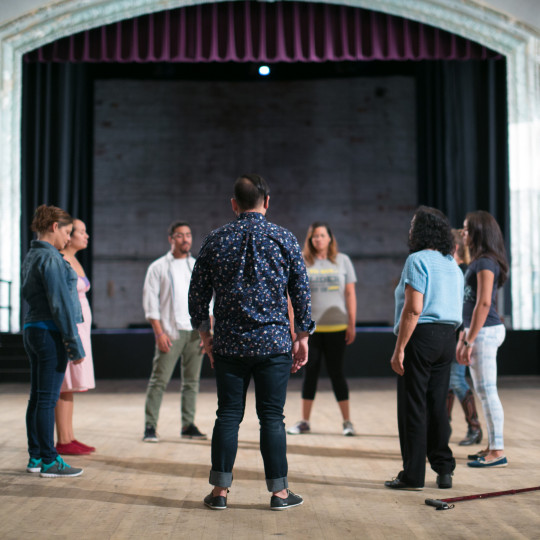 ¡CELEBRANDO THREE YEARS! is a celebration. That's what we're going to have… good food, good music and getting together in one place to celebrate Teatro Público de Cleveland [TPC]. We are going to dance until Raymond turns on the lights!
– Pablo Santiago
TPC is a portal, a viewing glass, a front row seat into the world, languages, customs of many Latinos that live right in the Cleveland area that want others to understand that when we speak our language, celebrate our holidays, follow our homeland traditions, we don't do it to separate us from others or because we are refusing to acclimate to the USA ways, but rather to unite in peace and show appreciation for the gifts we all bring to the communities we call home.
– Blanca Salva
TPC is like a chain link from a necklace – connecting to the community. Through the action of working with TPC, the community can see themselves. We all have the same fears, the same feelings, the same love, the same hate, the same everything. And we are immigrants – some of us left everything behind to come to work hard in this country and I think that the people identify with our stories. They think, they laugh, they cry, they identify. We are the links in the necklace.
– Ernesto Luna Camargo
Photo by Alejandro Rivera.
---
Blanca Salva
¡CELEBRANDO THREE YEARS! is celebrating the essence of what it means to be Latino, being accepted by society and having my stories told without judgement. Three years have flown by and we are still having folks asking for more; a major accomplishment for our Latino community.
It's a little tricky [to remount performances] but at the same time, very interesting because I am my own worst critic. This is my chance to show how I've grown as a performer. The only difference I've found in the remount is that some of the text or the format for delivering words may be different. I've learned that I have to "forgive" myself and be willing to stretch myself as a person/actor in ways I may have not felt comfortable with (and didn't know I needed) before I became part of TPC/CPT.
Photo by Steve Wagner.
---
Ernesto Luna Camargo
One of my favorite memories of TPC happened just before the first play, Cuando Cierras Your Eyes. Raymond was not very happy with the opening and he was thinking and thinking and thinking. One time I arrived early to the theatre, everything was dark and I love when the James Levin Theatre is empty because when you speak, you can hear an echo. I was singing one of my father's songs and Raymond said, "What is that song?" And I didn't know he was there! He had me sing it for the group and everybody loved the it. The song is, "I Don't Want You Anymore" and it means a lot to me because it's my father's song. Can you imagine after so many years of not performing, going to the stage again and opening the show singing the song of your father? It was beautiful. I remember the moment when he said, "Sing." It wasn't the most beautiful because I was shaking. Nervousness and happiness – all of these feelings – the act of singing in that moment. That is my beautiful memory.
When we read different scenes from the past three years, I close my eyes and it feels like a movie when memories start to appear. In those moments, I feel tears in my eyes – a really touching sensation. It's unbelievable that already in three years, we have done a lot – events, plays, experiences good and bad. We share a lot of things like a family with a lot of people. ¡CELEBRANDO THREE YEARS! is a wake-up. It's like waking up and seeing your own life from the other side – when you cross the street and look back. You can see your own life and those three years were amazing. We've grown as actors – many people had never been on the stage before. For me, it had been years since I had put my foot on the stage. I remember cast members being so afraid. Seeing all of us grow and watching people help each other is a very important thing.
Over the past three years, the love for me is the same. I am a part of TPC because theatre is my passion, is my love. It's what makes me wake up and go to rehearsal and many times my body tells me to stay and sleep but at the same time something inside me says, "No! The people in the theatre are waiting for you." It's that motto. That responsibility and everything. Many times I've said to Raymond the only reason I stay in Cleveland is because of the theatre. Cleveland is not that interesting to me without the theatre.
Teatro Público de Cleveland is like a chain link from a necklace – connecting to the community. Through the action of working with TPC, the community can see themselves. We all have the same fears, the same feelings, the same love, the same hate, the same everything. And we are immigrants – some of us left everything behind to come to work hard in this country and I think that the people identify with our stories. They think, they laugh, they cry, they identify. We are the links in the necklace.
I remember one woman came to me after the show. She didn't say anything at first but in her eyes, she said many things. After a moment she said, "One of those stories is like my story." I was almost one of the many babies that disappeared. I can speak because that is the reality and it's amazing that you can show that reality of our country. She was from Chile in the time of the dictators and she said everyone has to be silent about it. TPC is more than a message. It's for everybody in the community.
Photo by Alejandro Rivera.
---
Pablo Santiago
One of my favorite memories is using the picture exercise and taking the picture with all of our hands on the images. We didn't know too much about each other. We had to pick a picture and talk about what it mean to us. It gave me an opportunity to know more about my castmates – to see them in a different way. To know something from them, from their soul that I didn't know before.
When we were creating Vuelos for Pandemonium – we had a workshop and were asked to create short plays together in different groups. It turned out that two of the groups told the same story. the group that was watching had the same story. It was very magical.
We're a part of the amazing community of the theatre. TPC has opened our eyes to more opportunities and new challenges for the group, the ensemble, the company.¡CELEBRANDO THREE YEARS! is a celebration. That's what we're going to have. Personally I'm celebrating that I'm a part of the theatre community and all the things I've learned and how I've grown as an individual. As a group we have a vehicle to express the ideas of our community. A venue has opened the doors to us, to present our art, our stories. We can celebrate that we have other people that we can call family. We can celebrate the friendship with others, the good times, how we got through bad times, and how we continually work and come together in the art that we do.
I'm most excited that people are going to have an opportunity to see our past work. I'm excited about the good food, the music and getting together in one place to celebrate Teatro Público. We are going to dance until Raymond turns on the lights!
Remounting performances gives you the opportunity to put into practice all that you've learned through the years. Use the resources the theatre has provided like Holly Holsinger and Raymond Bobgan. I feel more confident and I know my castmates also feel that way. When we were reading it the other day, it was a different feeling than the first time we did it – more confident.
TPC is a venue that offers the opportunity for people to express their ideas – to put something on other people's minds. It open it's doors for all groups and ethnicities and genders. It's an amazing community, it's making a difference and opening conversations. And it's a great place to hang out on Fridays and meet actors. I'm looking forward to this season. When my family sees a play, it opens the conversation for me and I can talk about it with my wife and kids. I enjoy going to plays and being in the theatre, talking to and meeting people. I love that.
Photo by Alejandro Rivera.
---