¡Obras en Evolución! A Festival of New Play Readings
---
The Creative Production Team Includes:
Raymond Bobgan - Producer
Faye Hargate - Line Producer
David Vazquez - Lighting Designer/ Supertitle Board Operator
Gry Arendse Voss - Stage Manager
Ryan T. Patterson - Technical Director
Isabel Galvez and Lucia Stone Canales - Supertitle Translation
---
Teatro Público de Cleveland in rehearsal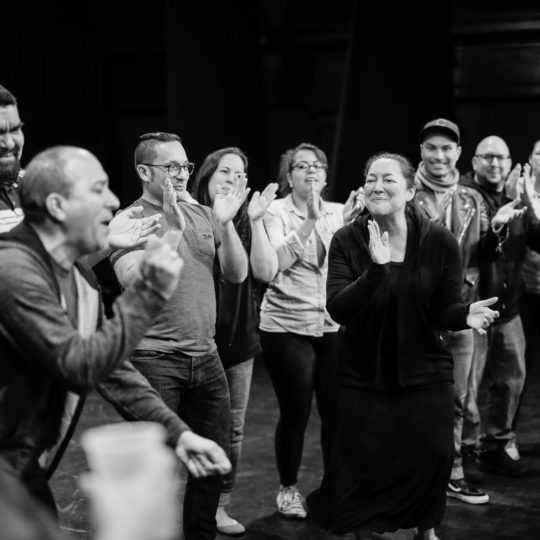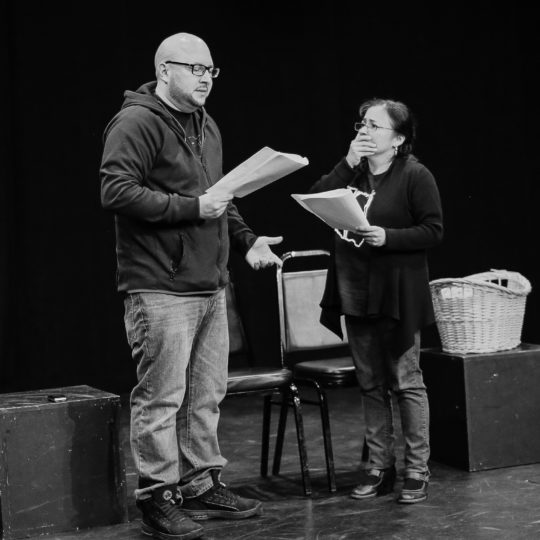 ---
A Look Back at Past Teatro Público de Cleveland New Play Development 
---
PLAYWRIGHTS: Tania Benites, Alejandro Moreno, Luis Ramírez-Alonzo, Alejandro Rivera, Mónica Torres-Cabán
ENSEMBLE: Mόnica A. Cerpa Zúñiga, Tania Benites, Ernesto Luna Camargo, Alisha Caraballo, Alexander Corona, Lilly Corona-Moreno, Jason Estremera, Bianca Flores, Isabel Galvez, Magdalena Godinez Ríos, Liz Gonzalez, Jerónimo Grassi, Letitia Lopez, Alejandro Moreno, Gilberto Peña, Luis Ramírez-Alonzo, Aida Rivera, Alejandro Rivera, Neiza Rivera, Rafael Rivera, Blanca Iris García Salva, Lucia Stone Canales, Pablo Santiago, Mónica Torres-Cabán, Gry Arendse Voss
---
Saturday night's show will benefit victims of hurricanes in Puerto Rico.
½ of all ticket sales and all tips at the bar will be donated to relief efforts, and we will be accepting donations all night.
---
El Profeta
Written by Luis Ramírez-Alonzo
Directed by Alejandro Rivera
Performed by Ernesto Luna Camargo, Letitia Lopez, Mónica Torres-Cabán, Jerónimo Grassi and Mόnica A. Cerpa Zúñiga
La Tormenta
Written by Alejandro Moreno
Directed by Luis Ramírez-Alonzo
Performed by Jerónimo Grassi, Gilberto Peña, Magdalena Godinez Ríos and Neiza Rivera
La Gringuita
Written by Tania Benites
Directed by Mόnica A. Cerpa Zúñiga
Performed by Liz Gonzalez, Rafael Rivera, Blanca Iris García Salva, Gilberto Peña and Aida Rivera
 
Deportee
Written by Alejandro Rivera
Directed by Jason Estremera
Performed by Alexander Corona and Alisha Caraballo
Por Las Mañanas
Written by Mónica Torres-Cabán
Directed by Rafael Rivera
Performed by Pablo Santiago, Lilly Corona-Moreno and Aida Rivera
 
House of Cards
Written by Tania Benites
Directed by Mónica Torres-Cabán
Performed by Jason Estremera, Bianca Flores and Rafael Rivera
---
ENSEMBLE MEMBERS SHARE THE EXPERIENCE OF WRITING, DIRECTING AND ACTING IN THEIR OWN PLAYS
Luis Ramírez-Alonzo
We're taking people on a journey to see what's behind the process of creating a play. All of the plays have topics that are related to the Latino experience. But at the same time, they can appeal to anybody – it doesn't matter the race or culture, because it's about unity, the human experience.
We'll be presenting plays in a raw format. We want people to really understand and enjoy the process of creating a play. I think in the long run, there's potential to develop these new plays into full-length productions.
It's my first time directing, and it's a little bit like cooking. You've got all these ingredients and you've got to make them work together. If somebody had told me 4 years ago, "You're going to have the chance to direct," I would be like, "Oh, you're kidding." So I'm really excited for the new things that are coming.
---
Blanca Iris García Salva
This festival of plays is unique because it's actually the words and stories from Latino members of our ensemble. I think the majority of the Latino community is not used to seeing someone reading from a script, or experiencing a smaller series of plays. It may evoke some questions that people will ask themselves later on their own, maybe enough to make them want to come back – and be part of TPC.
Teatro Público is a dream. It represents how much an ensemble like this is needed, and how, if we as a community opened our doors and allowed people to share their stories, what a difference it could make. And knowing that I'm part of an ongoing, growing ensemble… it's like watching a flower opening up for the first time. All the colors are so different and amazing – each phase is different and exciting. TPC is almost like an additional heartbeat in my heart. It is what makes the blood in my veins want to keep pumping. It is a dream come true.
I am hoping these new plays show the various talents of the TPC members and maybe entice some other people in our community to join. My hope and dream is that one day we will have a production solely written, produced and performed by all the Latino members of TPC.
---
Mónica Torres-Cabán
It's part of our culture to be with your people and dance and eat and have a drink and make jokes. It is a completely cultural experience for us. I think people feel like they're home again when they come to a TPC show.
We're presenting new plays that nobody has ever seen before. We had workshops during the summer – we took classes for writing, acting and directing. A couple of us are going to be doing all three – like myself. I wrote a play, and I'm directing a different one and I'm going to be acting in another. So it's something new for our community to see.
And I think we can send our scripts to people or organizations interested in new plays, where artists from outside of CPT can read them. That would bring the vision of, "Oh, at CPT there's Latino people that are writing over there."
---
Teatro Público de Cleveland from ArtsFwd on Vimeo.
---
En el 2013, el Cleveland Public Theatre realizó el lanzamiento del Teatro Público de Cleveland, a un grupo de teatro de latinoamericanos basados en, cuyo trabajo refleja los objetivos, intereses e ideales artísticos de sus miembros. El objetivo de este grupo teatral es compartir la abudante diversidad y perspectivas de la cultura Latina de Cleveland y así cumplir con la mission del CPR: para elevar la conciencia y fomentar la compasión a través del desempeño innovador y programas educativos que cambian la vida. El conjunto de actores y creadores tiene una amplia gama de experiencia, de amateur a artistas con formación profesional. La mayoría de los miembros pueden rastrear la herencia de Puerto Rico, y también hay representación de otros países de origen: México, Uruguay, Guatemala, Perú, Nicaragua, Colombia y Cuba. El conjunto fue fundado a través de una serie de talleres públicos gratuitos presentado por Teatro Público de Cleveland , en asociación con el Cultural Arts Center Julia de Burgos, de Cleveland, y su fundación fue apoyada por el programa de la Fundación de Cleveland Engaging the Future .
In 2013, Cleveland Public Theatre launched Teatro Público de Cleveland, a Cleveland-based Latin American theatre ensemble, whose work reflects the artistic goals, interests and ideals of its members. The purpose of this theatre ensemble is to share the rich diversity and perspectives of the Latino Cleveland culture, and to fulfill CPT's core mission: to raise consciousness and nurture compassion through groundbreaking performance and life-changing educational programs. The ensemble of actors and creators has a broad range of experience, from amateur to professionally trained artists. A majority of members can trace heritage to Puerto Rico, and there is representation from other countries of origin: Mexico, Uruguay, Guatemala, Peru, Nicaragua, Colombia and Cuba. The ensemble was founded through a series of free public workshops presented by Cleveland Public Theatre, in partnership with Cleveland's Julia de Burgos Cultural Arts Center, and its founding was supported by the Cleveland Foundation's Engaging the Future program.
---

Click here to see Teatro Público de Cleveland's
full web gallery of productions.
---
¿No inglés? No problema. No Spanish? No problem.
¡OBRAS EN EVOLUCIÓN! A FESTIVAL OF NEW PLAY READINGS will feature supertitles and will be fully bilingual.
We've got new gear thanks to The City of Cleveland's Cable Television Minority Arts and Education Fund, a supporting organization of the Cleveland Foundation.
---