Dia de Muertos/Day of the Dead
---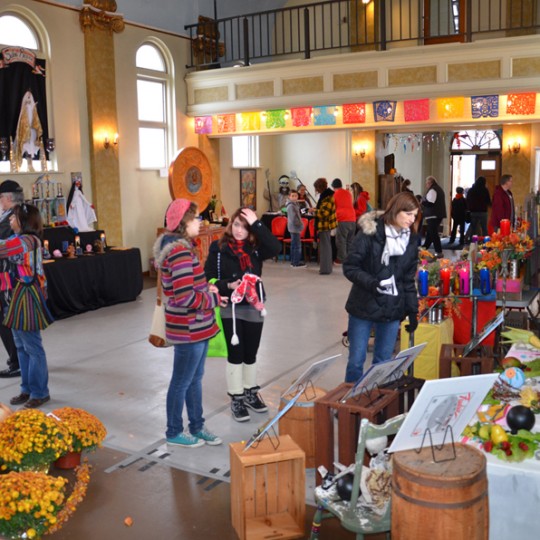 ---
DIA DE MUERTOS / DAY OF THE DEAD 2015 :: 
SATURDAY, OCT. 31
Día de Muertos Altars and Cemetery installations 11am – 10pm
Procession: Skulls & Skeletons 3:30pm – 4:15pm
Día de Muertos Altars:
Main Altar: Urban Community School
Altar 1: Lakeland Hispanic Students Club
Altar 2: Michael Schaefer
Altar 3: Bridget D. Ginley
Altar 4: Frankie Teuber
Altar 5: Lake Ridge Academy
Altar 6: Familia Nieves Bucey
Church Main Entrance Installation: Julia de Burgos Cultural Arts Center
Cemetery Installations:
Mark Jenks / Ian Petroni / Robin Van Lear
Nina Huryn & Ted Olah / Jessica Rosenlieb / Oliver App
Music:
Dueto Maravilla (Romantic Mexican popular songs) 2:00 – 3:00 p.m.
Mariachi Santa Cecilia 3:30 – 4:30 p.m.
Rice & Beans Latin Jazz Band 6:00 – 7:30 p.m.
Unfinished Business (Latin rock) 8:00 – 9:00 p.m.
Dances:
Tepehuani Nelli / Mexican Folkloric Dance Co. 4:45 -5:15 p.m.
Words by:
Councilman Matt Zone 5:15 p.m.
"Skulls and Skeletons" Procession will take place in Detroit Avenue: will begin from Cleveland Public Theatre main parking lot to Our Lady of Mount Carmel Church (West 70th Street) and Craciun Berry Funeral Home (West 72nd Street)
Returning to Cleveland Public Theatre.
---

---
THANKS TO OUR DIA DE MUERTOS PARTNERS
WARD 15 COUNCILMAN MATT ZONE
JOHN M. ZAYAC & DR. MARIE A. SIMON
---
---