Marisol
---
---
Presentando a / Featuring:
Sylka Edmondson, Elisa Beatris Fuentes Aguirre, Magdalena Godínez Ríos, Gil Peña, Andrea Judith Villalón Saucedo, Andrew Aaron Valdez+, Hillary Wheelock
Equipo de Producción / The Creative Production Team:
Raymond Bobgan – Productor / Producer
Faye Hargate – Productora de Línea / Line Producer
Arina Zaciu – Asistente de Dirección / Assistant to the Director
Cole Sajovie – Director de Escena / Stage Manager
Angelluis Roman Centeno – Asistente de Director de Escena / Assistant Stage Manager
Aaron Benson+ – Diseñador de Escena / Scenic Designer
Inda Blatch-Geib – Diseñadora de Vestuario / Costume Designer
James Gillen Kosmatka – Diseñador de Sonido / Sound Designer
Christina Patterson – Operadora de Subtítulos / Board Operator
Jeremy Paul – Diseñador de Iluminación / Lighting Designer
---
ABOUT THE PLAYWRIGHT: JOSÉ RIVERA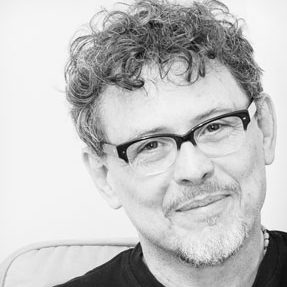 José Rivera is an award-winning screenwriter and playwright. José has won two Obie Awards for playwriting for Marisol and References to Salvador Dalí Make Me Hot, both produced at The Public Theater in New York. His plays The Promise, Each Day Dies with Sleep, Cloud Tectonics, The Street of the Sun, Sueño, Sonnets for an Old Century, School of the Americas, BRAINPEOPLE, Giants Have Us in Their Books, and The House of Ramon Iglesia have been produced in theatres across the country and around the world. Plays-in-progress include The Last Book of Homer, Human Emotional Process, The Hours are Feminine, a new translation of Kiss of the Spiderwoman, and Scream for the Lost Romantics. Adoration of the Old Woman made its New York debut at INTAR Theatre in March 2014. "Celestina," based on his play Cloud Tectonics, will mark his debut as a feature film director. José has received awards from the Fulbright Arts Fellowship, the Whiting Foundation, the Kennedy Center, National Endowment for the Arts, the National Arts Club, New York Foundation for the Arts, the McKnight Foundation, and the Rockefeller Foundation. José's screenplay for "The Motorcycle Diaries" was nominated for a Best Adapted Screenplay Oscar in 2005 making him the first Puerto Rican writer to be nominated for an Academy Award. Also nominated for a BAFTA and a Writers Guild Award, "The Motorcycle Diaries" won top writing awards in Spain and Argentina. His screenplay based on Jack Kerouac's On the Road premiered at the 2012 Cannes Film Festival and was distributed nationally in the winter of 2013. His film "Trade" was the first film to premiere at the United Nations. He has story credit on the film "The 33" and shares credit on "Letters to Juliet". Other screenplays include "The Brief Wondrous Life of Oscar Wao" (Scott Rudin, producer); "The State Boys Rebellion"; "Compositions in Black and White"; "Three Apples Fell From Heaven" (Shekhar Kapur, director); "Face Value"; "Riders on the Storm"; "American Rust"; "The Crown" (Rodrigo Garcia, director); "Vincent" (Ben Foster, director); "Patriotic Treason" (Giancarlo Esposito, director); "White Fang" (Lance Acord, director); "Deity"; an untitled film based on the Korean film "Failan" (Andres Moore, director); and "Even Silence Has an End". Television credits include an untitled HBO pilot, co-written and produced by Tom Hanks; "The House of Ramon Iglesia"; "A.K.A. Pablo" (Norman Lear, producer); "The Eddie Matos Story"; "Eerie, Indiana" (co-creator and producer); "Goosebumps"; "Mayhem" (Bob Cooper, producer); "The Conquest" (Ron Howard, producer); and "Latino Roots", an untitled 10-hour limited series for HBO. José made his film-acting debut playing himself in "Margarita with a Straw". He is a former member of the Board of Directors of the Sundance Institute and has been a creative advisor for Screenwriting Labs in Utah, Jordan, and India. A member of the LAByrinth Theatre Company and Ensemble Studio Theatre, he leads a weekly writing workshop in New York City, where he lives. In the works is his first novel, Love Makes the City Crumble.
---
ABOUT THE DIRECTOR: JULIA ROSA SOSA
Julia Rosa Sosa is an El Paso, Texas and Ciudad Juarez native. Upon graduating from The University of Texas at El Paso, Julia has focused on projects that resonate with her Latinx Community and has been part of Oregon Shakespeare Festival, Mojada: Una Medea in Los Angeles by Luis Alfaro (Assistant Director), and Native Gardens at Cleveland Play House (CPH) to Robert Barry Fleming (Assistant Director). She worked in Spanish productions in the USA; Sazón de Mujer by Víctor Hugo Rascón Banda (UTEP/ Director); and En el Tiempo de las Mariposas / In the Time of the Butterflies at Cleveland Public Theatre. Recently, she served as one of the dramaturgs for the staged reading Our Dad is in Atlantis (CPH). She was happy to be a part of the DirectorsLab Chicago 2019.
---
Acerca de / About TEATRO PÚBLICO DE CLEVELAND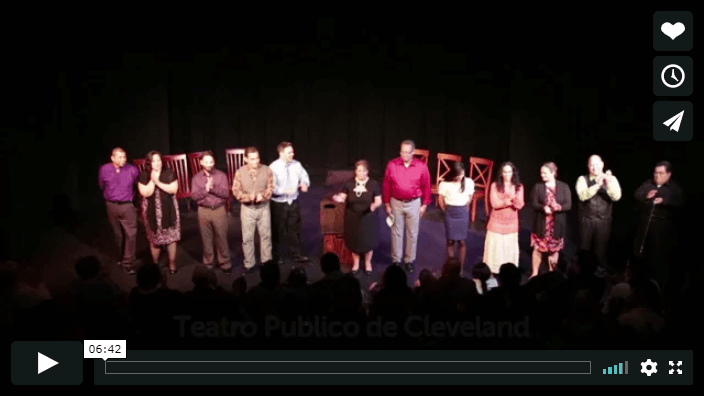 Teatro Público de Cleveland from ArtsFwd on Vimeo.
---
En el 2013, Cleveland Public Theatre trajo a la luz a Teatro Público de Cleveland, una compañía local de teatro Latino, cuyo trabajo refleja los objetivos, intereses e ideales artísticos de sus miembros. El propósito de este conjunto teatral es compartir la rica diversidad y perspectivas de la cultura Latina en Cleveland, y cumplir con la misión central de CPT.
El Teatro Público de Cleveland inspira el intercambio inter y transcultural a través de una narración bilingüe que invita a la reflexión, y la actuación que fomenta conciencia social y crea comunidad. TPC se compromete a identificar, desarrollar, celebrar e inspirar a los artistas latinos de Cleveland a compartir sus experiencias, culturas, perspectivas y talentos. Colaborando con el progreso artístico, Teatro Público de Cleveland da la bienvenida a artistas aficionados y con experiencia que comparten un idioma común independientemente de su origen cultural.
In 2013, Cleveland Public Theatre launched Teatro Público de Cleveland, a local Latino theatre company, whose work reflects the artistic goals, interests, and ideals of its members. The purpose of this theatre ensemble is to share the rich diversity and perspectives of the Latino-Cleveland culture, and to fulfill CPT's core mission.
Teatro Público de Cleveland inspires inter/intra cultural exchange through thought-provoking bilingual storytelling and performance that fosters social consciousness and builds community. TPC is committed to identifying, developing, celebrating, and inspiring Cleveland Latino artists to share their experiences, cultures, perspectives, and talents. Collaborating on the artistic continuum, Teatro Público de Cleveland welcomes amateur to experienced artists who share a common language regardless of cultural origin.
---
¿NO HABLA INGLÉS? NO HAY PROBLEMA. NO SPANISH? NO PROBLEM.
Marisol tendrá subtítulos y será completamente bilingüe.
Marisol will feature subtitles and will be fully bilingual.