Día de Muertos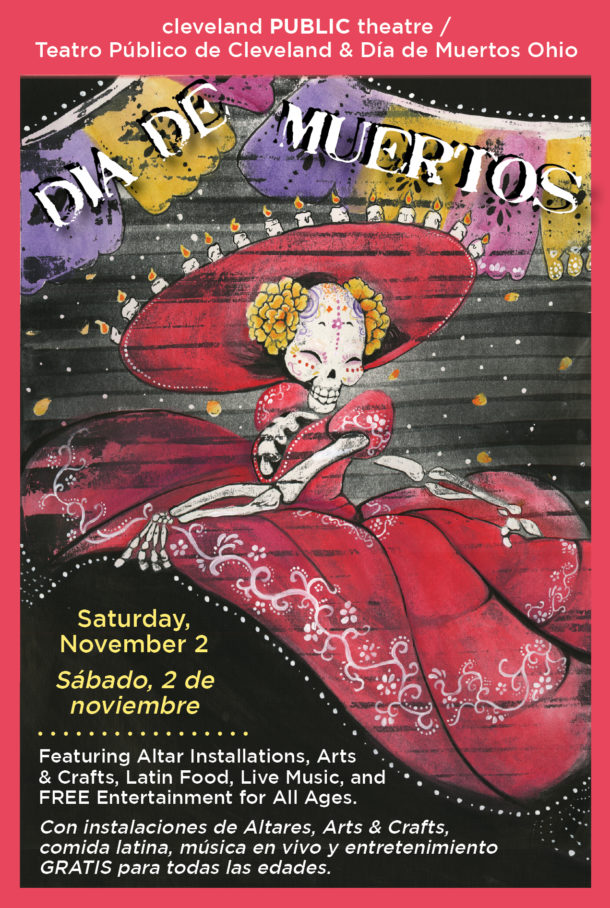 Presented by Cleveland Public Theatre/Teatro Público de Cleveland & Día de Muertos Ohio.
Artistic Director: Héctor Castellanos Lara.
November 02, 2019
11:00am - 10:00pm, CPT campus: Church, Parish Hall, and surrounding area - 6205 Detroit Ave., Cleveland, OH 44102
A vibrant cultural celebration for the whole family, the annual "Day of the Dead" honors the memory of those who have passed and is a treasured holiday in Mexico and throughout Latin America. Activities include indoor and outdoor art installations, Latin food, live music, performances, and a colorful "Skulls & Skeletons" procession.
Una gran celebración cultural para toda la familia, el evento anual "Día de Muertos" honra la memoria de seres queridos y amigos fallecidos, es una de las tradiciones más representativas de la cultura Mexicana y se ha popularizado mucho a través de Latinoamérica. Incluye actividades de instalación de altares, arte, comida latina, música en vivo, danzas y una procesión muy colorida de "Calaveras y Esqueletos."
Featuring Altar Installations, Arts & Crafts, Latin Food, Live Music, and FREE Entertainment for All Ages.
Con instalaciones de Altares, Arts & Crafts, comida latina, música en vivo y entretenimiento GRATIS para todas las edades.
FREE ALL AGES EVENT / EVENTO GRATUITO PARA TODAS LAS EDADES
---